Or, at least, that is sometimes the way it works. On other occasions, I run around the world trying to find the best of the best, and occasionally breweries are good enough to ship me samples of something I've specifically requested from them, usually beers I can't manage to get otherwise.
And then there are those beers that just randomly wind up on my doorstep. These are a few of them.
There's been a bit of a buzz around Toronto today about the St. Ambroise Érable, presumably because the same sales rep who put a pair of bottles of the stuff into my hands did likewise for others, like Jordan and Chris. So I might as well chime in, and before I read what either has said about it, I might add.
Unlike other maple beers I've tried, there's no doubting the maple-ness of this brew, even cold out of the fridge and from a foot away, it smells like maple candy crossed with the caramel fudge I used to make in my mom's double-boiler when I was a kid. It hits the palate sweet and more caramelly than mapley, but turns progressively maple-accented as it warms in the mouth, eventually becoming almost spicy with a drying hop that lasts through the bittersweet and ever-so-slightly cloying finish.
McAuslan has been known to play with post-fermentation flavourings – their Apricot Wheat is, or at least was the last time I checked, flavoured with apricot after it's pretty much otherwise finished – and I suspect that is the case here, as well. Not that there is anything wrong with that, mind you. I have no problem imagining enjoying this with ham or a bowl of vanilla ice cream, maybe even glazing the former and topping the latter with it, too.
(The bigger McAuslan development, in my opinion, is that they are now canning their workhorse St. Ambroise Pale Ale. This is good news, indeed.)
I also had dropped off a bottle of Great Lakes Brewing's 25th Anniversary Bourbon Barrel-Aged Imperial Stout, and I'm quite happy for it. The best of the Ontario brewery's quartet of anniversary releases, this is an engaging, if slightly simple, sipper that offers barrel notes in just the right balance with the prune, licorice and chocolate brownie flavours of the stout. It finishes a bit on the boozy side, but you should expect that of an 11% beer, and besides, the rest of it drinks far closer to single digit strength.
Oregon's Deschutes Brewing sometimes sends me beer, bless their hearts, and one recent arrival was Hop Henge IPA. The polar opposite of the Red Chair NWPA I sampled from this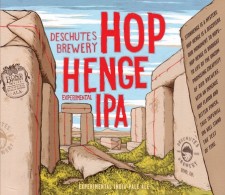 brewery late last year, this 10.6% alcohol hop monster has a huge, herbal and resinous aroma – what those weed-smoking west coasters would call "dank" – and a big, hoppy, piney, grapefruit peel-ish flavour that marches over the palate, surprisingly without ripping it to shreds. That it feels more hoppy than bitter in the mouth you can attribute to a whole lot of fruity malt, but still, the hops rule every aspect of this beer.
I also have a bottle of Ontario beer importer Roland & Russell's first foray into brewing, Stormy Monday, an 11% barley wine aged in calvados barrels and bottled under the imprint of the Bush Pilot Brewing Company. Brewed separately in two different breweries and then blended and barrel-aged, this ale has the aroma of a beery potpourri, with a huge perfume of clove and dried apple, some spicy florals and something curiously resembling Indian curry. (A check of the label reveals that to be cardamom, along with, I suspect, the figs and raisins. There are 25 ingredients in this beer, including seven malts, five hops, dried quince and juniper, for heaven's sake!)
Unfortunately, the body doesn't quite hold up to the complexity of the aroma. (Or maybe that should be "fortunately," since that curry thing probably wouldn't work too well in a barley wine.) First on the palate is a fairly simple caramel-fruity chocolate combination, and then the spices and mocha notes kick in – coffee and cocoa are two more ingredients – along with a decent hit of calvados and some spicy hoppiness. It doesn't quite all come together for me, but it's definitely going in the right direction.
The finish is my favourite part of this beer, not because it's over but because it finally finds a cohesive flavour profile – brandy, raw cocoa, some sort of exotic, apple-accented coffee and lingering clove and alcohol.
Brewed in collaboration with Danish brewer Anders Kissmeyer, this is a beer to be faulted only for reaching too high, dreaming too big, and possibly having the contents of somebody's spice cabinet accidentally tip into the brew kettle. Over time, I expect the spices will calm down a bit and create a more balanced whole, but that's something for a future post.